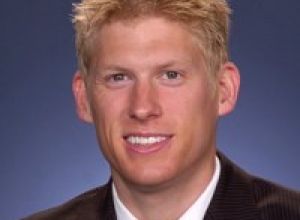 University of Illinois Division of Intercollegiate Athletics
Justin Spring just wrapped up his 11th season at the helm and 14th season overall with the Illinois men's gymnastics program. 
In 11 seasons as the head coach of the Fighting Illini, Spring has guided 10 gymnasts to NCAA event titles, including three NCAA champions in 2010, 2011, and 2012. The Illini have racked up 75 All-America honors in Spring's 11 years. He was named National Coach of the Year in 2012 after guiding Illinois to its 10th NCAA team championship. At 28, he was the youngest coach in NCAA history to earn National Coach of the Year honors.
Spring, a former Illini standout, had an amazing year in 2008 that culminated with winning a bronze medal with Team USA at the 2008 Beijing Olympics. Along with his teammates, Spring defied all odds as the U.S. men brought home the bronze medal and surprised everyone, except themselves.
Spring graduated from the University of Illinois in 2006 with a bachelor's degree in speech communication and earned his master's in recreation, sports and tourism in 2014. Spring and his wife, Tori, sons, Cody and Elliot, and daughter, Callie, reside in Champaign, Ill.