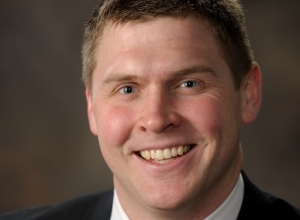 Busey
Executive Vice President, Commercial Market President for Champaign and Ford Counties
Martin O'Donnell, Executive Vice President and Commercial Market President for Champaign and Ford Counties at Busey Bank, leads a team of commercial banking professionals who meet the lending needs of customers, providing seamless coordination of their business goals.
Martin earned his Bachelor's and Master's degree from the University of Illinois at Urbana-Champaign and is a Certified Commercial Investment Member (CCIM) and active member of the CCIM Illinois Chapter.
Martin enjoys giving his time and talents to various organizations in Champaign-Urbana—including as a board of director for United Way of Champaign County. As a former Fighting Illini football player, Martin pursues his passion for athletics as a volunteer basketball coach at the Stephens Family YMCA in Champaign and color analyst for the Fighting Illini Football team.