United Way of Champaign County's 99th Annual Meeting, held February 24, 2023, was a celebration of all that is good about our community. Over 350 guests United to celebrate achievements in volunteerism, support our transition of volunteer leadership, and hear plans for the upcoming 100th Anniversary year.
Reports from the Board
Treasurer Michael Vittone reported that the financial health of United Way of Champaign County is strong. Outgoing Board Chair Sarah Zehr Gantz delivered remarks on the State of the Organization:
We're pleased to share that support for United Way and our new Community Impact strategy continues to grow, especially among major supporters. This year we have received some of the largest Annual Campaign gifts in the history of our organization. These gifts are a testament to the quality of our stewardship and the effectiveness of our community impact work. They also represent trust in our Board and Staff, and we are deeply grateful.
Board Elections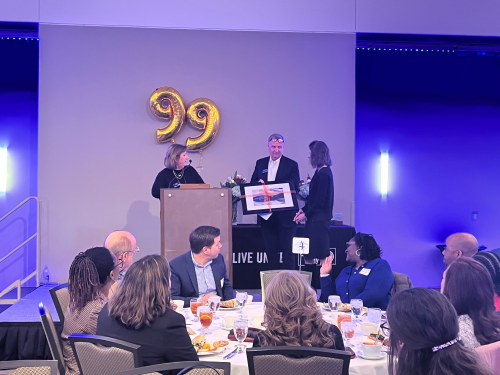 A large portion of Annual Meeting is dedicated to honoring outgoing volunteer leadership and the election of new leaders. We are thrilled to welcome five new members to our Board of Directors:
Demond Dade
Mia Hernandez
Denise Poindexter
Jenn Smist
Ryan Squire
Mark Wisniewski was elected Board Chair for the 2023-24 term.
View our full Board of Directors.
Difference Maker Awards
The Difference Maker award is presented annually to individuals and groups that collaborate with United Way to make an impact.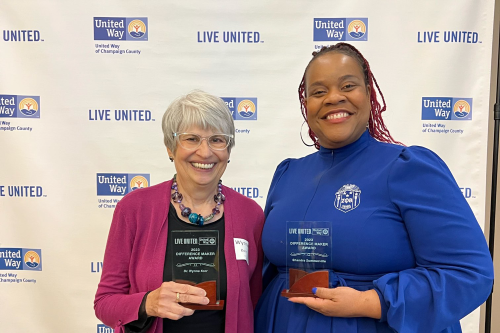 Shandra Summerville worked weekly, and intensively, with our staff to help review, improve, and push forward the United Way 21 Week Equity Challenge, which was made available to everyone in the state of Illinois in January 2021. Nearly 15,000 people across Illinois have participated in the Challenge. 
During her time as Dean, Wynne Korr strengthened the relationship between the University of Illinois, the School of Social Work, and the local human service system. Her volunteer leadership on the Community Impact Committee was crucial during times of increasing community needs, changing grant systems, and deepening the focus on outcomes resulting from a United Way financial investment. 
Tom Jones Challenger League focuses on children wanting to play baseball, ages 6-21, with varying degrees of physical or mental challenges and works to provide a safe environment for kids to enjoy themselves. 
Million Dollar Circle
Schnucks was honored as the eighth member of the Million Dollar Circle of Caring. Teammates from each of the four local Schnucks stores attended the event and each store received a commemorative plaque - a small token of gratitude for their tremendous generosity. 
This is a milestone award presented when a United Way corporate partner reaches $1 million in cumulative employee and corporate gifts. Members include the University of Illinois at Urbana-Champaign, Carle Health, Busey, Kraft Heinz, Jeld-Wen Windows & Doors, The City of Champaign, and Christie Clinic.
Spirit of Caring
The Spirit of Caring award is the highest honor presented by United Way of Champaign County. The award recipients exemplify the highest ideals of community service and commitment to United Way and the Champaign County community.
Visit Champaign County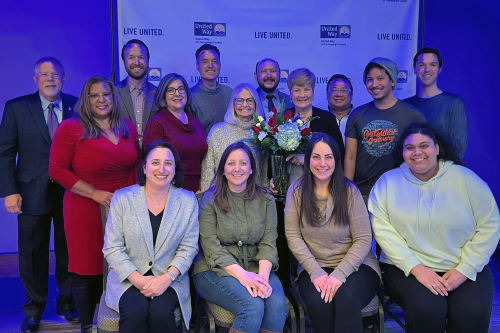 Like United Way, Visit Champaign County wants every resident to work, live and grow in a community that is thriving.  By showcasing our community to visitors from all over the world, they highlight the many ways that this place is special, and it is really – to borrow a phrase - outside of ordinary! 
Since April of 2020 their Hospitality Relief Fund has provided over $34,000 in direct relief funds to baristas, servers, cooks, maintenance workers, and housekeeping staff – all hospitality heroes whose worlds were turned upside-down by the pandemic. Recently, the Visit Champaign County Foundation helped launch the Champaign County African American Heritage Trail.
Their tireless efforts bring thousands of people to Champaign County every year. Visitors bring much-needed revenue to support local businesses and help create jobs – some even choose to relocate here! 
In Memoriam - State Senator Scott Bennett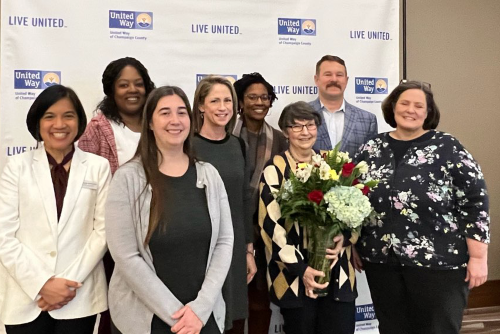 It is with great fondness and deep respect that United Way posthumously presented the Spirit of Caring Award to State Senator Scott Bennett.
When Scott Bennett got involved with United Way's work, he started with a "here to help" style, just like he did in so many other places. United Way first got to know Scott in 2015 as a dad and relatively early in his Senate career when he served as Co-Chair of our annual Ready. Set. GROW! early childhood expo.
Scott continued to remain connected to our human service community and was always willing to engage with non-profit partners. He took considerable time to understand nonprofits' needs and most importantly, their concerns so he could be the best advocate he could be on their behalf.
Scott not only served his community through his elected office but also as a volunteer himself with the Rotary Club of Urbana, CU 1 to 1 Mentoring, and CU Schools Foundation 365 Club.