Communities need champions who understand their problems, see their potential, and will offer solutions that will make a difference. And change is only possible when there is a vast and organized network that can lift up proven strategies and bring them to our communities. 
Women United ignites the power of women – who bring the passion, expertise, and resources needed to get things done – to create lasting change in their communities.
As an integral part of United Way, Women United fights for the health, education, and financial stability of every person in every community. We are a diverse, vibrant community, bound together by a powerful sense of belonging — to each other, to United Way's mission, and to the communities we call home. 
We Ignite Change.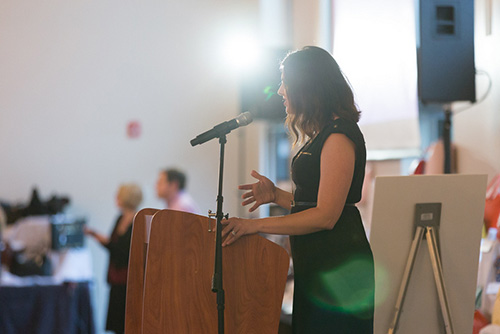 In Champaign County, we tackle the issues that matter most to the people who call it home. We empower each other to leverage our passions, ideas, expertise, and resources to transform the very conditions in which people live.
With more than 700 members and $600,000 invested in local solutions, we're able to create change in targeted ways, while also being part of United Way's bigger picture and broader cause. Two of our big wins include the establishment of a scholarship fund for women attending Parkland College and granting critical financial support to the Emergency Shelter for Families.
You may have heard of our big event, Power of the Purse! You might not know that we also host quarterly Lunch and Learn seminars, Volunteer Days, and more events to engage deeper with community issues and make a difference right here in Champaign County.
Why Join?
You'll be a part of a community of like-minded women who contribute their personal passions, best ideas, and unique strengths to United Way's mission of building stronger communities.
Volunteer within our community alongside others looking to create change.
Network and collaborate with key business and community leaders at exclusive events.
Learn more about critical issues impacting our community.
Advocate for key community issues at the local and state level.
How to Join
Membership in Women United is open to all women whose households contribute $500 or more annually to United Way's Community Impact Fund. This is the engine that supports United Way's three-part Community Impact Strategy. Together we are providing Community Essentials such as food, housing, and healthcare; connecting and strengthening nonprofits through Community Building, and targeting the toughest community problems through Community Change grants.

Contact us with the form below, or email us today.
Women United is generously sponsored in 2022-2023 by Tenet Wealth Partners.

Upcoming Events
The Women United committee plans a variety of events each year for our membership.
When you join Women United, you'll receive monthly updates and invitations to all our events.
SOCIAL EVENTS
September 27, 2022
Lunch & Learn
Empower Yourself, Empower your Community presented by Daly Andersson of Tenet Wealth Partners
November 10, 2022
Trivia Night
Learn about United Way and Women United while meeting other members
January 2023
Exciting event in the works - stay tuned!
VOLUNTEER EVENTS
December 6, 2022
Diaper Bank Repack
Help us distribute over 11,000 diapers to families
December 2022
Pajama Drive
Donate pajamas and help area kids have sweet dreams
SIGNATURE EVENT
May 4, 2023
8th Annual Power of the Purse fundraiser
Sponsorship and ticketing information available in late fall 2022
Learn More about Women United