Preventing child maltreatment and building healthier families through mental health and trauma-responsive services.
Content Warning: Abuse and neglect.

All children in Champaign County deserve to grow up in a supportive, loving home. This is critical if we wish for every child to achieve their full potential. The dual risks of child abuse and neglect and mental health issues threaten the well-being of children and can have significant negative long-term impacts.
Childhood Abuse and Neglect and other Adverse Childhood Experiences may cause high levels of chronic stress (i.e., toxic stress) that rewires the brain's developing architecture (i.e., connections between cognitive, emotional, and social development). As a result, children who experience CAN and other ACEs are more likely to engage in risky behaviors in adolescence and have health problems as adults. These problems include alcohol abuse, depression, drug abuse (including opioids), eating disorders, obesity, sexually transmitted diseases, smoking, suicide, violence towards others, and many chronic diseases.

- Centers for Disease Control, Division of Violence Prevention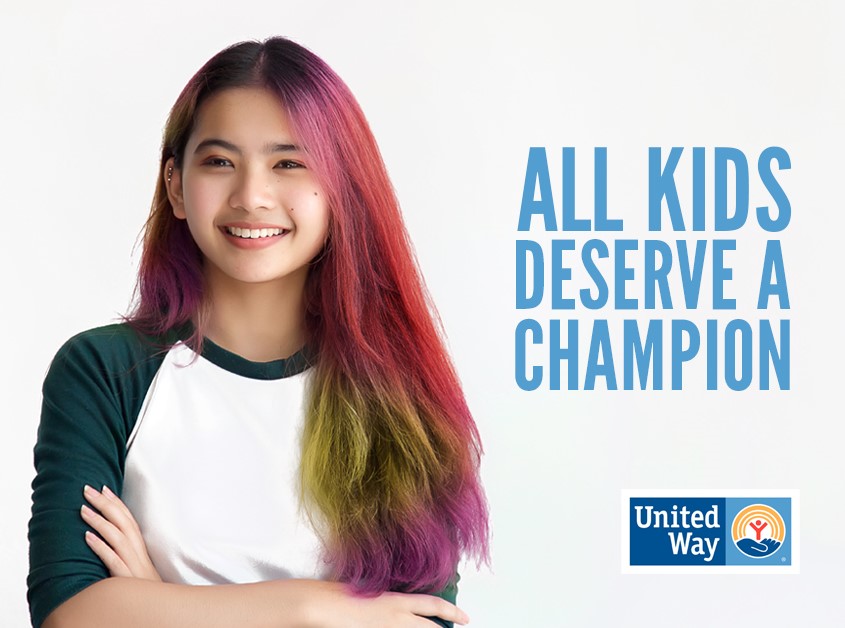 Building Stronger Families
Child abuse and neglect is preventable. The United States Department of Health and Human Services defines six protective factors which lower the risk of child abuse and neglect:
Nurturing and attachment
Knowledge of parenting and of child and youth development
Parental resilience
Social connections
Concrete supports for parents
Social and emotional competence of children
United Way of Champaign County's Child Well-Being grants will strengthen these protective factors. It will take all of us, United, to build stronger families and reduce the risk of abuse and neglect in our community.
Research shows that parents and caregivers who have support—from family, friends, neighbors, and their communities—are more likely to provide safe and healthy homes for their children. When parents lack this support or feel isolated, they may be more likely to make poor decisions that can lead to neglect or abuse.

-United States Department of Health and Human Services, Children's Bureau

Community Concern
United Way of Champaign County's Community Survey found Child Abuse and Neglect to be the top reported community issue overall. Mental health ranked third.
The Champaign Community Health Plan found Child Abuse and Neglect to be the second highest community concern. Mental Health was the top concern.
Rate of Local Children Experiencing Abuse and Neglect
The table below shows the number of indicated victims of abuse and neglect in Champaign County. "Indicated" means that credible evidence was found to substantiate a claim of abuse and neglect.
| | | | |
| --- | --- | --- | --- |
| Year | Number | Rate | Statewide Average |
| 2019 | 331 | 24.6/1000 | 19.1/1000 |
| 2020 | 426 | 31.6/1000 | 20.7/1000 |
Local Children in Substitute Care
510 Champaign County children are currently in Substitute care. 
"Substitute care" means the care of children who require placement away from their families or private guardians. Substitute care includes foster family care, care provided in a relative home placement as defined in 89 Ill. Adm. Code 301 (Placement and Visitation Services), Section 301.80 (Relative Home Placement), care provided in a group home, care provided in a maternity center or a child care, mental health or other institution, and care provided in an independent living arrangement. (Illinois Department of Children and Family Services)
This data is as of August 31, 2021 (Source)
| | | | |
| --- | --- | --- | --- |
| Foster Care | Relative | Institutional or Group Home | Other |
| 255 | 202 | 23 | 30 |
Recurring Maltreatment
Of all children who were victims of a substantiated maltreatment report during the fiscal year, this chart shows the percentage that were victims of another substantiated maltreatment report within 12 months.
| | | | |
| --- | --- | --- | --- |
| Year | Children with Substantiated Report | Children with another Substantiated Report within 12 months | Rate |
| 2016 | 519 | 43 | 8.3% |
| 2017 | 578 | 58 | 10% |
| 2018 | 623 | 76 | 12.2% |
| 2019 | 589 | 81 | 13.8% |
Maltreatment of Children in Substitute Care
In 2020, there were 37 substantiated reports of maltreatment of children in Substitute Care. This number has doubled since 2018. (source). This is also significantly higher than the statewide rate.
Mental Health
Behavioral Health issues continue to be an issue across the county. Lack of resources, funding, and stigma contribute to the issue. 
Contributing Factors to Mental Health Issues
PTSD 
Physical/Verbal Abuse
Sexual Abuse
Substance Abuse
Language Barriers
Trauma 
Poor Medicaid Reimbursement 
Lack of Social Support
Barriers to Mental Health Care in Champaign County
Lack of funding
Lack of support system
Availability and access to counseling and screening programs 
Lack of Providers who take Medicaid
Participant Follow-up 
Preventing maltreatment and providing trauma-informed care
On December 3, 2021, United Way awarded $450,000 in grants to local programs working to improve Child Well-Being across Champaign County. Each program is working towards at least one of the following Goals:
Fewer children ages 0-5 will experience maltreatment
Children 0-18 in substitute care will not experience additional or repeated maltreatment
Parents & caregivers in zip codes 61821 and 61802 will have increased access to supports that reduce stress and the risk of child maltreatment
The community will have increased capacity to address the needs of children and adults who have experienced trauma
Children and adults who have experienced trauma will have increased support available
Our Strategy
Our grant partnerships collaborate with each other to prevent maltreatment and provide the best care to those who have experienced harm. Our grant work is focused on building strong, resilient families and strengthening the six protective factors that are proven to reduce child abuse and neglect. Our grants and collaborations will provide:
Programming that is free or very low cost and meets families where they are; reducing historical, financial, and geographical barriers to services
Care and community support for children and adults in stressful situations
Trauma-informed counseling and specialized, evidence-based therapies 
Professional support for people who have experienced maltreatment or violence
Enhanced access to counseling or therapy services within trusted community organizations
Special Projects in Child Well-Being
Early Childhood Parent Education Community Calendar
---
Grant Partnerships
Counseling Program
Provides professional, affordable individual, couples, and family counseling services to area residents suffering from mental, emotional, and relationship difficulties impacting their functioning in work, school, family or community life. Services are provided by Masters level therapists - and supervised by a licensed clinical social worker - who are committed to our strengths-based philosophy, making clients central to services, working with an interdisciplinary team, and verifying effective service delivery. Therapists use trauma-informed practice to collaboratively engage clients to tailor realistic alternatives and achievable solutions to their unique situations. 
A program of Center for Youth and Family Solutions
Hope for the Future
Will design, implement, evaluate, and sustain a tiered, evidence-based system of programs and services that are trauma-informed, coordinated, culturally responsive, and people-centered. By supporting Black children and parents across three tiers (Universal programming, Gang Prevention/Intervention, Intensive Wraparound Services), this project will design a pilot program and sustainable program model that expands existing programs and focuses on outcomes of violence prevention, positive racial identity, trauma healing, and overall holistic needs.
A program of DREAAM
HopeSprings Counseling Services
Offers counseling expertise to youth and families in our community who are experiencing a difficult life situation. 90-95% of the clients are Medicaid eligible/insured. Specialty therapies (EMDR, Theraplay, play therapy, Trauma Focused-CBT) are offered. HopeSprings maintains a strong emphasis on trauma-informed care with all clients, with a specialty with children. 
A program of Cunningham Children's Home
Safe Children and Strong Families Programs
The Safe Children program provides emergency respite for children "at risk of harm" due to a family crisis. Through the provision of care, we facilitate parenting breaks when home situations are fragile, promote stress reduction, positive parenting, and minimize the risk of employment loss due to childcare emergencies. The Strong Families program provides family stabilization through individual and group support and education services, including home visiting, support groups, play groups, and parenting classes. Referrals to other services and resources are also provided.
Programs of Crisis Nursery
Therapy - Community Outreach & Group Services
Free therapy services to survivors of sexual violence and their non-offending significant others, ages 3 and older, out of the office located in Urbana and through a contractual Therapist in Rantoul. A new therapist position would lead RACES' group and outreach-based therapy services for child and adult survivors of sexual violence. This will include providing therapy at off-site locations with new and existing community partners, including schools and other community organizations, and will increase RACES' offerings for evening service provision. This expansion of group services is responsive to an increased demand for this form of support during the COVID-19 pandemic. This new position would allow for the staffing needed to meet this request from the community and to allow for the time needed to travel to locations to meet with survivors who would not be able to come in to meet with a therapist otherwise.
A program of Rape Advocacy, Counseling & Education Services (RACES)
Trauma and Mental Health Support Program
Provides social, emotional, and behavioral support as well as strength-based management services for children and families promoting success within the Boys & Girls Club, school, and community. Through evaluation the Child & Family Social Workers will develop individual service plans in coordination with the Don Moyer Boys & Girls Clubs range of services, as well as leverages relevant community resources and referrals as needed. The Child & Family Social Workers will integrate a social, emotional and trauma informed lens to the practice providing impactful individual, family, and group services, case management, evaluation, consultation, crisis intervention, grief support, and community referral work. 
A program of Don Moyer Boys & Girls Club
Well Family Care Program
Provides wellness support to families and children from birth to 18 years of age. The Well Family Care project is envisioned to meet the needs of mothers and help them in meeting the needs of their children. The program also provides therapeutic support to families, crisis intervention when a youth is in crisis, and support programs that promote family connectedness and build resilience in parents and youth. Mental health services and social-emotional learning is provided to children and their families. TWE is committed to building long-lasting relationships with youth and families through evidence-based support. 
A program of The WELL Experience