What is United Way?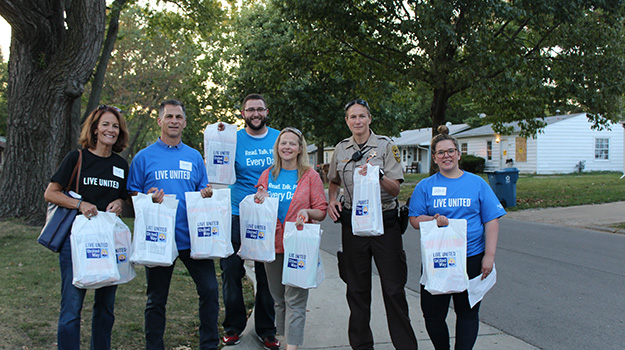 United Way is a local organization that helps people right here in our community. 
Our mission statement sums up the broad range of our work: "To bring people and resources together to create positive change and lasting impact in our community." Working with a diverse group of community partners, we promote giving, advocating and volunteering to advance the common good in Champaign County.
Tell me more about your work.
United Way's work is year-round! You can find us all across the community. Here's a few examples:
Building Blocks: We believe in the Building Blocks for a Good Life: Education, Health and Financial Stability. All of our work centers around these three areas.
Community Impact Fund Grants: We provide grant funding to a network of 39 high-quality programs provided by local non-profit agencies. Programs apply for a grant under one of our three Building Blocks. Programs are extensively reviewed by a team of community volunteers and, if accepted, receive a grant for 2 years of funding. United Way focuses on funding programs with a history of delivering results.
Fundraising: United Way conducts an annual campaign to raise money for our Community Impact Fund. When we fundraise, we spread our message to the employees of over 225 companies. Giving is always voluntary. We also work with our Pillars and Women United groups to encourage philanthropy.
Advocacy: We meet with lawmakers on bills important to our community. In the recent past we have urged the state to make prompt payment to all non-profit agencies. We also work to spread awareness of our goals to our neighbors and everyone we meet. Learn more about being an advocate.
Community Volunteerism: We work to promote volunteerism within our community. We host volunteer days, as well as promote CUVolunteer.org, a website where volunteers can find opportunities. We run a program for Emerging Community Leaders that engages young professionals in volunteerism and trains them to sit on the boards of non-profit organizations.
Partner at the Table: United Way sits on roundtables such as the Council for Service Providers to the Homeless, Champaign County Jail Diversion, Mental Health Task Force, Champaign County Health Care Consumers, and various other consortiums that work towards creating a stronger

county

. By being present at these meetings, United Way builds relationships within the community. We believe in working together to create a better Champaign County.
We believe that together we can create results that no one can accomplish alone. When you give to United Way, you can feel confident that your gift is being put to work locally and with careful thought. When everyone gives a little, we can create a lot of change.