When we work together, we can make a big difference for area elementary students.
That's the overwhelming message from United Way's 2022 Early Grade Level Success data report, released today (September 29, 2022).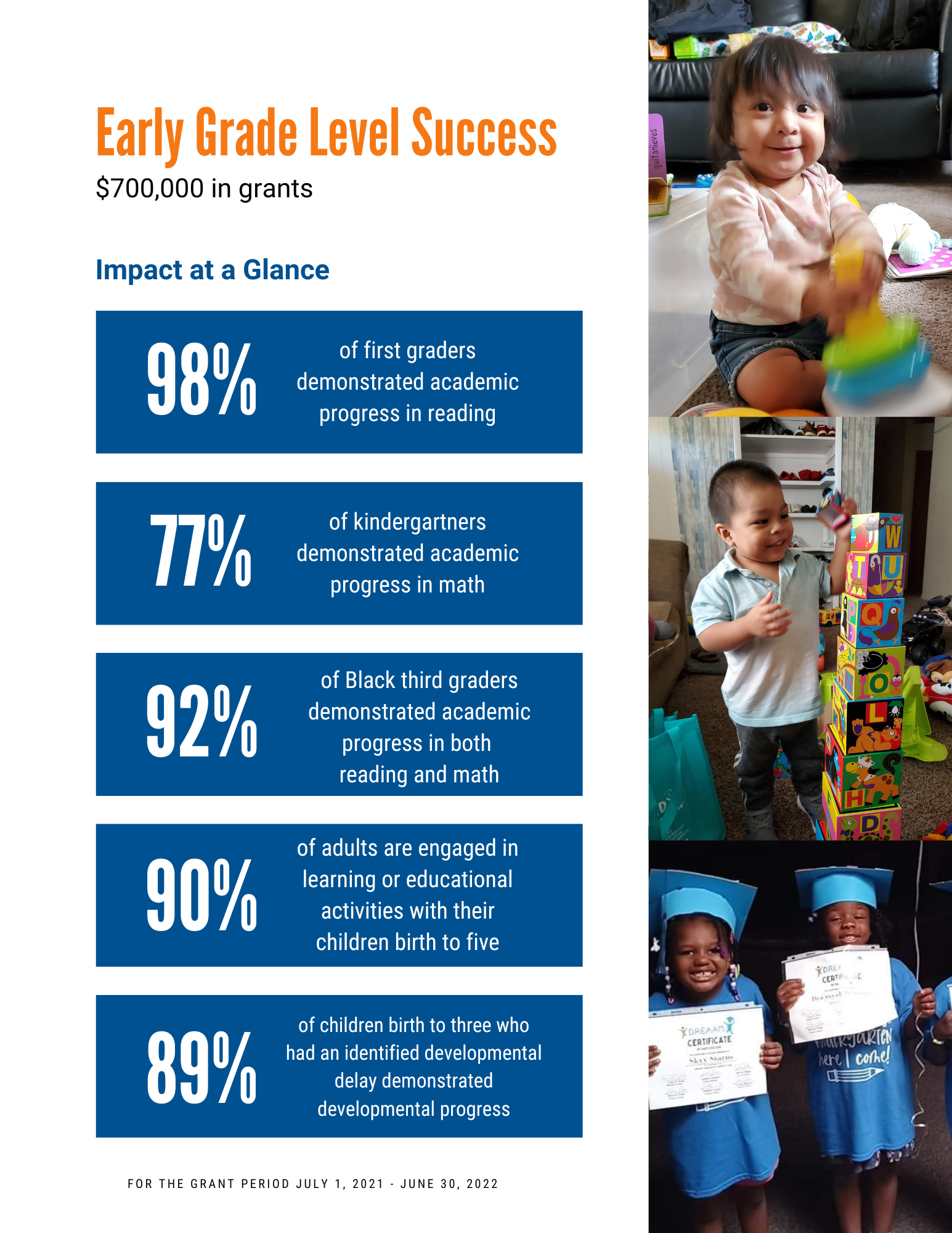 This report contains the results from the first year of our Early Grade Level Success grants. It is the largest of United Way's six grant areas, with $700,000 in grant awards. 
The data shows our new approach to grantmaking is working! We are thrilled by these numbers - in particular, the success our partners are seeing in reading achievement. We are also pleased to report that students of color participating in our partner programs are seeing the same achievement rates as their white peers. This is critically important, as one of our big Equity goals is to close the persistent achievement gaps in our community.
We are also excited that we are seeing more preschoolers with developmental delays identified early and supported with interventions - this early support can be life-changing.
The scope of this work is impressive - our twelve grant partners worked with an estimated 2,596 children from across the entire county over the past year.
At United Way, we know that complex community problems can only be solved if we are focused and work together. In 2020, after listening to the community and researching the data, we set specific, targeted goals. In spring 2021, we awarded two-year grants to the most promising programs working in these areas. All the programs we work with are measuring the same items – that way, we can identify which programs and strategies are most successful.
With this new, targeted approach, we are able to award higher grant amounts. Larger grants mean that programs have the financial resources they need to be effective and serve the most people.
Our long-term Early Grade Level Success goals are ambitious, but we know we can achieve them when we work United:
Increase the number of students demonstrating kindergarten readiness by 10%
Increase the number of low-income and Black male students meeting Math and English Language Arts standards by 10%
Decrease chronic absenteeism by 10%
Help more children achieve school success
We want to expand this work and serve even more children. You can help us by donating to our Community Impact Fund.