United Way's 97th Annual Meeting was held virtually on February 25, 2021. Prior to COVID-19, our organization would host a large luncheon and awards celebration after the Annual Meeting, with hundreds of guests. We missed seeing our United Way friends! 
You can watch the meeting recording here (20 minute video).
Reports from the Board
At the Meeting, Treasurer Michael Vittone reported that the financial health of United Way of Champaign County is strong. In a year of incredible uncertainty, the organization's strong fiscal management practices and dedicated supporters shined.
Outgoing Board Chair Greg Anderson delivered remarks on the State of the Organization.
The pandemic and data from the ALICE report shined a bright light on the systemic challenges facing Champaign County families, and demonstrated that our normal just wasn't working for so many people. That's why at United Way, we aren't going back to normal - we're going forward to better.

As we look to the future, we are re-imagining a more equitable and resilient community - one where more of our students are graduating prepared for success at college or on the job, more local families are financially stable and more neighbors are living healthy lives. This will require us to think differently about the ways we address longstanding community problems, and to bring together business, government and nonprofit in new collaborations. We are ready for the challenge.
 
The Board of Directors announced the formation of the Diversity, Equity and Inclusion Committee. The committee chair will sit on the Executive Committee of the Board.
Board Elections
We are thrilled to welcome seven new Board Members:
Dr. Kayla Banks
Demetria Candler
Valena Claiborne
Dr. Warren McCauley
Josh Mirowski
Sharon Rachal
Luke Sullivan
Carrie Eisenemenger was elected the 2021 Board Chair, and Sarah Zehr is the Chair-Elect. The full Board listing can be found here.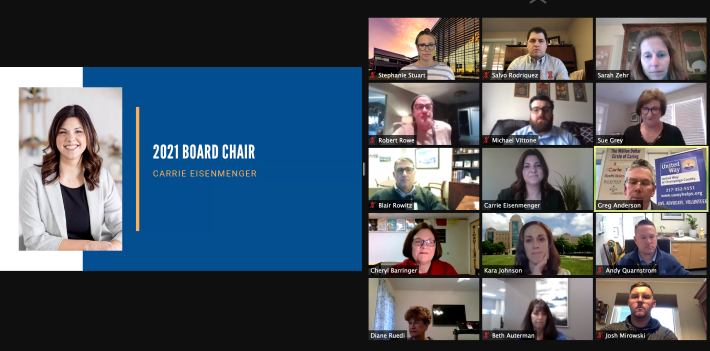 Finally, we would like to thank our Board Members whose terms have expired. We are grateful for the time and energy you have given to United Way and our community.
Beth Auterman
Ben Brunworth
Mike DeLorenzo
Chris Kloeppel
Andy Quarnstrom
Dr. Blair Rowitz
Diane Ruedi
Julie Shapland